Tournaments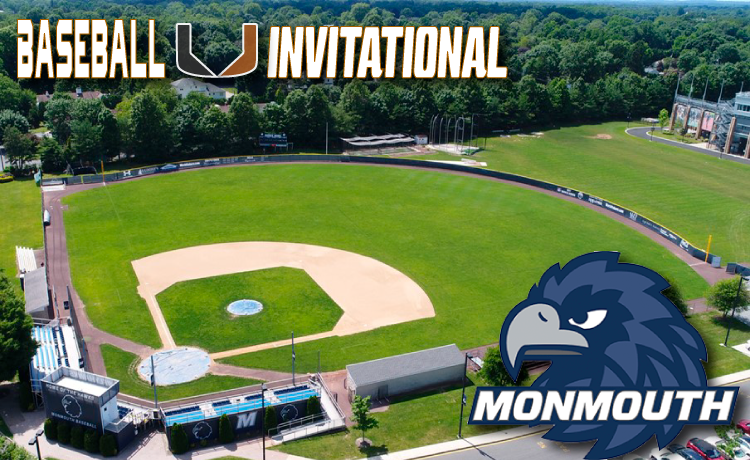 Baseball U returns to Monmouth University in the summer of 2019 with the Baseball U Invitational on July 27-28. All the games are played at Monmouth University over a two day period.
Six teams will play 3 games on the Monmouth University campus on Saturday, July 27th and 28th.
Schools that have attended this event in the past besides the host Monmouth University are: Rutgers, Seton Hall, Stony Brook, Rider, Brookdale, Kean, Virginia, Rutgers-Newark, Rutgers-Camden, William Patterson, Villanova, St. Joes, UMBC, Wagner, LIU, Penn St, Virginia, George Washington, Richmond and more.
Teams must be 2020/2021 Graduates
Monmouth University Baseball Field
Use This GPS Address to gain entrance to the side entrance to parking lot.
146 Larchwood Av
West Long Branch, NJ 07764
2019 Baseball U Invitational Schedule
| | | | |
| --- | --- | --- | --- |
| SATURDAY, JULY 27TH | | | |
| | | | |
| 8:00AM | WLADYKA BASEBALL | VS | BASEBALL U |
| 10:15AM | TACONIC RANGERS | VS | BASEBALL U |
| 12:30PM | WLADYKA BASEBALL | VS | TACONIC RANGERS |
| 2:45PM | ALL OUT BASEBALL | VS | DIAMOND JACKS SUPER 17 |
| 5:00PM | FTB MID-ATLANTIC | VS | ALL OUT BASEBALL |
| | | | |
| SUNDAY, JULY 28TH | | | |
| | | | |
| 9:00AM | FTB MID-ATLANTIC | VS | WLADYKA BASEBALL |
| 10:15AM | DIAMOND JACKS SUPER 17 | VS | FTB MID-ATLANTIC |
| 1:30PM | TACONIC RANGERS | VS | DIAMOND JACKS SUPER 17 |
| 3:45PM | BASEBALL U | VS | ALL OUT BASEBALL |
1 Hour 50 Minute Games
No New Inning After 1:50
Run Rule - 8 After 6
Teams Already Committed are:
1. Baseball U NJ (Jersey Shore)
2. Wladyka Baseball
3. Taconic Rangers
4. All Out Baseball
5. FTB Baseball
6. DiamondJacks Super 17
Teams interested in attending the event should email John Wells directly at [email protected]