News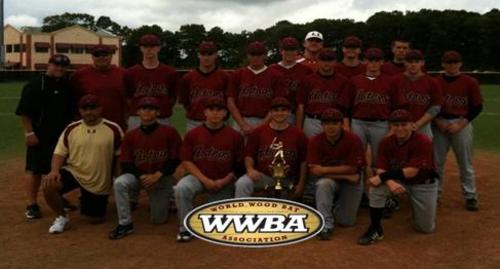 Baseball U captured the second Perfect Game WWBA NE Championships on the weekend of the 9th anniversary of 9-11.
The weekend started off in bracket play with Baseball U allowing no runs and only allowing an amazing 3 hits in three games. The pitching was dominant in the three wins and it allowed the players to find their swings.
With the number 1 seed in the playoffs the team earned a bye in the first round and then took care of winner of the first NE Championships, South Bergen Mets by a score of 10-2.
That set up the championship game against Team New York. Team New York is a combination of two organizations, NY Nine and Bayside Yankees.
The game started off with a mammoth first inning home run by UVA bound Mike Papi which gave a 2-0 lead to Baseball U. Team NY closed the gap off starter JB Kole in the second to 2-1.
In the top half of the 4th reliever Troy Whitty came into the game and gave up two runs before fellow 2012 graduate Justin Thomas came in to shut the door and hold the Team NY lead to 3-2.
In the bottom of the 4th catcher Jeff Diehl doubled to left and Vinny Zarrillo followed up with a single. Connor White hit into a 6-4-3 double play plating Diehl from third.
Team NY scored twice in the top half of the 6th on a two out bloop single to right. Baseball U answered with 1 run of their own in the bottom half and left the score 5-4 in favor of Team NY.
Reliever Mike Galvin held Team NY to a scoreless 7th inning.
Baseball U received a leadoff walk in the bottom half of the inning by Scott Donaghue. The next batter Andrew Velazquez bunted over Donaghue. With one out Villanova bound BJ Bochicchio stepped to the plate. BJ took a first pitch fast ball for strike one. The second pitch of the at bat was a curveball low in the dirt. With the count 1-1 BJ took a fastball deep over the right center field fence and with that a walk-off two run home run.
The NE Championship was the first since the 2008 when the team was under the Pittsburgh Pirates banner.
Perfect Game has rewarded the success of the Prospect team this year with a current ranking of 13th in the country.
I would like to thank all of the players and families for their commitment in attending the event.
Next Stop…. Jupiter!!
Most Valuable Pitcher was Kyle Rubbinaccio
Tournament MVP was BJ Bochicchio.