News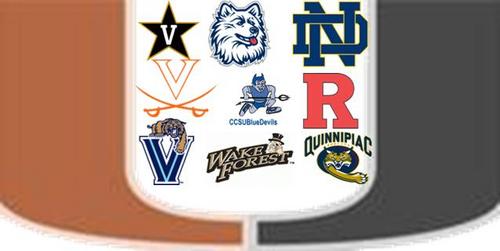 Baseball U has had 35 players who have worn the Uniform this past year commit to play baseball in college at all levels of college.
This achievement has come through hard work by the players and exposure given by the Baseball U program. However the biggest reason the program gets stronger every year is because of the path that those prior to each year's graduating class has carved for them.
In just 5 years 21 players have been drafted and over 100 players have gone on to play college baseball. College coaches know that when Baseball U is listed at an event they are a must see. The consistency is the most important thing in any program.
Each year the organization becomes a step better than the last. Every year you think there will be a player that cannot be replaced, yet each year a player improves and becomes that player.
In next year's class of 2012 the organization already has 4 players who have given their verbal commitment. All of those players will be playing in the SEC and ACC.
Baseball U has become the premier organization for showcasing players in the Northeast. Others will try and make that claim and some might come close. But facts are facts and drafted players and those on scholarship totaling over 7million dollars speak for themselves.
The 17U program is ranked 13th in the country by Perfect Game.
The organization will continue to produce solid baseball players. It is our belief that you are only as good as the people you surround yourself with. This starts with the coaching staff, players and relationships with the college coaches.
While we will win our share of tournaments as we have in the past 5 years but the bottom line is, "Scholarships are more important than trophies."

Congratulations To This Years Players



Vinny Zarrillo
Rutgers
Kyle Rubbinaccio
Notre Dame
Chris Harvey
Vanderbilt
Matt Lorenzetti
Quinnipiac
Chris Shaw
Boston College
Matt Pirro
Wake Forest
Rhett Wiseman
Vanderbilt
BJ Bochicchio
Villanova
Mike Papi
UVA
Patrick O'Leary
Winthrop
Austin Solecitto
Boston College
Scott Donaghue
Quinnipiac
Eric Stone
Boston College
Eric Pecoraro
Felician
Vin Guglietti
Quinnipiac
Patrick Zilberman
Central Connecticut
Thomas Antuofermo
Ramapo
Westyn Baylor
Radford
Scott DeJong
Connecticut
Nick Milliman
Northeastern
Stephen Pike
Stonehill
Brandon Galgay
College of St Rose
Chris Berry
Franklin Pierce
JB Kole
Villanova
Tyler Barrett
Adelphi
Cole Bryant
Southern Connecticut
Bryan Czel
Central Connecticut
Rob Gau
Trinity
Chris Haylon
Franklin Marshall
Andrew Hurn
Amhurst
Tyler Jacobs
Amhurst
Matt Luciani
Tufts
Chris McCormick
Wheaton
Dan Pidgeon
Stonehill
Connor Sullivan
Trinity